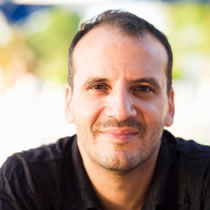 BUILDER'S NOTES
First-time builder with no previous experience
Built a VersaTube garage in just a few days
Beginner Builder
Meet Chris
I'll be the first to say that I'm not a construction professional, but I still wanted to build my own garage. I own some tools and have helped friends with their projects and to be quite honest, didn't want to pay someone to do a job that I could do myself.
Well, my garage is finished and it really wasn't that difficult to build. The VersaTube package made it easy and I sleep a little better knowing my car and motorcycle are now safely locked up at night. However, as nice as the building is, perhaps the best thing about it is the sense of accomplishment that came from doing the project myself – my sweat and hard work made it all possible.
Now that my garage is complete, I can offer some assistance to other DIYers who may question their ability to attempt the job on their own. Read the following tutorials to find out how to build your own garage or outbuilding.